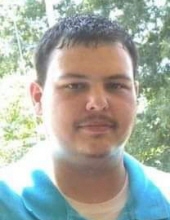 Obituary for Billy Ray Partin, Jr,
Billy Ray Partin, Jr., age 30, of LaFollette passed away Saturday, December 8, 2018. He was a member of Long Hollow Baptist Church. He loved sports, music and Fantasy Football. Preceded in death by father, Billy Ray Partin, Sr.; grandparents, Sigal Byrd, Aline Swafford, James Partin; special cousin, Jamie Fraley O'Brien; brother, William Walter Partin.

Survivors

Daughter: Paiton Partin

Son: Dallas Partin

Mother: Geneva Lynn Partin

Twin Sister: Brandy Lee Partin
Sister: Amanda Craw
Sister: Stacey Partin
Brother: Jamie Partin

Grandmother: Lois Miller Byrd
Several loved Aunts & Uncles
Special nephew: Austin Ford
Special Nieces: Jasmine O'Brien, Heidi Trammell, Madison Partin



Family will receive friends 5 PM to 7 PM Wednesday at Cross-Smith Funeral Home

Services 7 PM Wednesday Cross-Smith Chapel

Rev. Ricky Massengill and Bill Miller officiating

Family will meet 10 AM Thursday at Cross-Smith Funeral Home and proceed to Byrd-Johnson Cemetery in Straight Fork for 11 AM Interment

Condolences may be given online at http://www.cross-smithfuneralhome.com

Arrangements by Cross-Smith Funeral Home
Previous Events
Visitation
Cross-Smith Funeral Home, Inc.
300 E. Central Ave.
LaFollette, TN 37766
Service
Cross-Smith Chapel
Cross-Smith Funeral Home, Inc
300 E Central Ave
LaFollette, Tennessee 37766
Family will meet 10 AM Thursday at Cross-Smith Funeral Home and proceed to Byrd-Johnson Cemetery in Straight Fork for 11 AM Interment