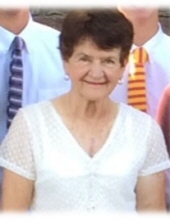 Obituary for Carol Ann Arnold Baum
Carol Ann Arnold Baum died peacefully in Fayetville, Georgia on January 23, 2018 at the age of 79.
Carol is survived by two children, Lisa Baum McLaws and Cheryl Lynn Baum Neuberger, and eight grandchildren, Carley Neuberger, Mason McLaws, Chase Neuberger, Monte McLaws, Cade Neuberger, Miles McLaws, Claire Neuberger, and Matthew McLaws. She is preceded in death by her mother and father and five siblings, namely Mary, Jennie, Carlos, Norma Joe, and Betty.
She was born on January 8, 1939 in Campbell County, Tennessee, to Newton Jasper Arnold and Sara Ida Campbell. She graduated from Brigham Young University with an undergraduate degree in Business and Master's Degree in Education. After moving to Cincinnati, Ohio, she taught first grade for over 30 years, mostly at Adena Elementary. She was a devoted and loving mother of two daughters always encouraging them to pursue their goals and be generous.
In her final days she was going to the public library, socializing at the senior center in her area, and sending cards to grandkids. She was an extraordinary mother, teacher, student, and friend to the end. She left an indelible mark on the world with her kindness to family, friends, missionaries, and even strangers. She loved nature, trees, and flowers. Country music, particularly by Alan Jackson, helped her savor the good things in life. She loved to read and said her favorite book was The Book of Mormon. She loved shopping, going out to eat, sunbathing (especially at the beach), playing games, discussing politics, and watching news, sports, and movies while snuggling under a warm blanket. She could teach anyone to read and was an all-time favorite with her grandkids. She will be greatly missed by all who knew her.
A graveside service is scheduled for Saturday, January 27, 2018 at 3 p.m. at the Campbell Cemetery in White Oak, Tennessee
Condolences may be given online at http://www.cross-smithfuneralhome.com/
Arrangements by Cross-Smith Funeral Home, Inc.
Previous Events
Graveside
Campbell Cemetery
Little White Oak Rd
White Oak, TN 37729